Commentary
Open Access
Open Peer Review
This article has Open Peer Review reports available.
Burden of frailty in the elderly population: perspectives for a public health challenge
Archives of Public Health
The official journal of the Belgian Public Health Association
2015
73:19
Received: 22 October 2014
Accepted: 21 February 2015
Published: 10 April 2015
Abstract
Frailty is a major health condition associated with ageing. Although the concept is almost universally accepted, its operational definition remains controversial. Anyway, this geriatric condition represents a huge potential public health issue at both the patient and the societal levels because of its multiple clinical, societal consequences and its dynamic nature. Here, we review existing definitions and assessment tools for frailty, we highlight consequences of this geriatric condition and we discuss the importance of its screening and prevention to limit its public health burden.
Keywords
FrailtyElderlyPublic healthPrevalence
Background
Frailty is a state of increased vulnerability to poor resolution of homoeostasis after a stressor event and increases the risk of adverse outcomes, including falls, delirium, and disability [1,2]. Frailty is the consequence of accumulated age-related defects in different physiological systems [3]. According to the World Health Organization, the global population of elderly people aged 60 years or more was 600 million in 2000; it is expected to rise to around 2 billion by 2050 [4]. With an aging population, there is a growing interest for frailty [5]. Indeed, a quarter to a half of people older than 85 years are estimated to be frail [1]. However, frailty remains an evolving concept lacking both a unique definition and diagnostic criteria to be used in clinical practice and epidemiological researches [6,7]. While researchers, policy makers and health care providers generally agree that frailty can have an important impact on affected individuals, their families, the health care system and the society, the concept of frailty remains controversial [5]. From a clinical perspective, frailty is crucial because it constitutes a condition of greater risk of adverse health outcomes, such as falls, hospitalization, disability and death [8]. Frailty is important from a societal perspective because it identifies groups of people in need of extra medical attention and at risk of high dependency. Frailty is also on concern when considering financial health care planning to better select management and prevention programs. Finally, as suggested in some recent studies, the frailty status might be reversible with the implementation of specific exercises programs [9-11] and nutritional supplementation [12,13]. Therefore identify frail elderly subjects is essential.
This work was not intended to be a systematic review but only to be a thematic one conducted by epidemiologists and geriatricians. Therefore, the purpose of this study was to review the recent literature on the definition of frailty, the burden of the disease and the challenges for public health (i.e. screening and prevention). To select the most recent articles, we carried out a search in the electronic database MEDLINE to identify studies published within the last 20 years. We also limited our search to articles about human frailty, written in English or French and concerning people aged over 65 years. The mesh term « frailty » was used in this research and to refine the search, the term "definition", "prevalence", "epidemiology", "screening", "consequences" and "intervention" were combined with "frailty" using Boolean indicators. Additional studies were identified by a manual search of bibliographic references of selected articles and existing reviews. More than 2300 articles were found. The most interesting references were selected on the basis of the previously reported goals (Figure
1
).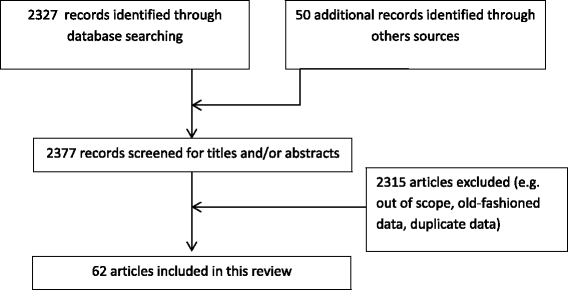 Discussion
Perspectives
Screening frailty and implementing early interventions could prevent the risk of loss of autonomy and the occurrence of adverse health events of people aged 65 or over, within 1 to 3 years [48]. In addition, the identification of frail individuals could help in improving the management of their comorbidities. Indeed, frail patients appear to have specific care needs, beyond care of underlying or coincident comorbidities and associated disability. Medical care for frail older adults needs to include ruling out, and treatment of, pathologic causes of progressive weakness, weight loss, decreased exercise tolerance, slowed task performance (i.e. walking speed), and/or low activity. Because frailty is a progressive condition that begins with a preclinical stage [8] it offers the possibility of early detection and thus of prevention.
It is admitted that frailty, because of the related adverse events, is costly for the patient and the society. However, few data exist on the potential financial gains of screening for frailty and there is no evidence on the economic implications of interventions targeting degree of frailty in the frail population. Identification of cost-effective interventions to reduce frailty may help health services to more efficiently allocate health care resources to those older people most at risk [69]. Identifying cost-effective means for reducing frailty has the potential to guide appropriate use of the limited resources available to improve outcomes in older people. Therefore, further data are needed and a cost-effectiveness study could fill the gap in the literature.
Conclusions
Frailty has become a major health condition associated with ageing, and it contributes to many components of public health at both the patient and the societal levels. Although theoretical foundations of frailty are well established in the literature, and the concept almost universally accepted, a clear consensus on the definition of frailty does not emerge from the literature. Indeed, as this syndrome has been acknowledged to be a multidimensional concept, the choice of the components to be included in the frailty definition continues to be controversial. Whatever the definition or the assessment tool used, the burden of this syndrome and its costs for both the individual and the society are of concern in our ageing population. It seems thus essential for public health to implement the screening and multidisciplinary treatments of frailty.
Authors' Affiliations
(1)
Department of Public Health, Epidemiology and Health Economics, University of Liège, Liège, Belgium
(2)
Support Unit in Epidemiology and Biostatistics, University of Liège, Liège, Belgium
(3)
Gérontopôle, Toulouse, France
(4)
Bone and cartilage Metabolism Unit, CHU of Liège, Liège, Belgium
(5)
Geriatric Department, CHU Liège, Liège, Belgium
(6)
Department of Motricity Sciences, University of Liège, Liège, Belgium
Copyright
© Buckinx et al.; licensee BioMed Central. 2015
This article is published under license to BioMed Central Ltd. This is an Open Access article distributed under the terms of the Creative Commons Attribution License (http://creativecommons.org/licenses/by/4.0), which permits unrestricted use, distribution, and reproduction in any medium, provided the original work is properly credited. The Creative Commons Public Domain Dedication waiver (http://creativecommons.org/publicdomain/zero/1.0/) applies to the data made available in this article, unless otherwise stated.